Skip to Content
What Not to Do About a Leaky Basement
Reliable Basement is now part of ULB-DRY Waterproofing . You are being redirected to similar content on ULB-DRY Waterproofing's website.
If you are not redirected within 5 seconds, please click here.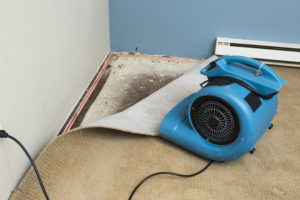 A wet basement can be a big problem. Even if you don't see standing water, if there's mold, mildew, or other signs of moisture in your basement, it's not something you should ignore. In fact, ignoring a damp basement is one of the worst things you can do, because even a little bit of moisture can lead to big problems. Let's look at some other things you shouldn't do about your leaky basement.
Don't think the problem is entirely under the house. It might surprise you to know that roof water runoff can cause a wet basement. To prevent this from happening, make sure your gutters and downspouts carry water at least eight feet away from the foundation.
Having soil slope towards the house is a big mistake. The soil around your basement is not packed as tightly as the soil further out, and because the basement gives off heat, the soil is likely to be spongy and soak up water. Making sure the soil slopes away from the house is a good way to keep that water from pooling around your foundation.
Don't skimp on the sump pump. A cheap sump pump won't do a good job of removing water and it may even overheat or break. Choose a high-quality, submersible pump, which will be cooled by the water as it operates, and invest in more than one. The optimal system is a primary sump pump, a backup pump, and battery backup.
Trying to fix a water problem with paint is a bad idea. Sometimes homeowners try for a quick, cheap fix, using waterproof paint to deal with a moisture issue. Unfortunately, painting cement walls doesn't work because the lime in the concrete creates a bubble between the wall and paint, and this can break off in shale and cause more problems.
Don't think you can just open a window or run a dehumidifier and dry out your basement. Ventilating your basement can actually pull in more moisture. And while dehumidifiers can remove some moisture, they're usually not powerful enough to solve the problem of a wet basement.
Not calling a professional is the worst idea. An experienced basement waterproofing company has better resources and more skill than you do and can do a much better job of keeping your basement dry. Choose a company that's certified to waterproof your home and will guarantee the work.
If your basement needs waterproofing, Reliable Basement Services can help. A family-owned and operated company, we've served the greater Chicagoland area for more than ten years. We offer a full spectrum of basement services, charging reasonable rates for work that includes crack repairs, sump pump systems, basement waterproofing, basement windows, and floor repair. Our consistently high standards have made us an award-winning Chicago basement waterproofing contractor and earned us thousands of satisfied customers all over Chicago. For more information, call (630) 318-4888 or visit our website for a free quote.
What Are You Waiting For?
Schedule Your Free Inspection Today!