Skip to Content
Foundation Underpinning & Piering
Reliable Basement is now part of ULB-DRY Waterproofing . You are being redirected to similar content on ULB-DRY Waterproofing's website.
If you are not redirected within 5 seconds, please click here.
Foundation Underpinning and Piering
Foundation Underpinning and Piering can be used for a variety of purposes. It can be done to stabilize a house that is settling and having structural issues. It can be used to hold back soil for a drainage project when a proper footing is absent. It can be used to support a home, while the basement or crawlspace floor is dropped. It can be used to lift a home that has sunk into the earth. No matter how it is used piering and underpinning is the best way to support a foundation and Reliable Basement Services is the company to do your install.
The number one way to provide homeowners with a permanent foundation repair solution is the Stabil-Loc Foundation Piering System. To install this system, Reliable Basement Services will excavate to position our double-walled heat-extruded steel piers directly under the center of your wall beneath the footing. We drive the pier segments hydraulically all the way to bedrock or stable strata. This provides the deepest, strongest foundation support available! It essentially puts the house on stilts that are braced off the absolute strongest part of the soil. Our patented rotating head assembly maintains concentric loading throughout the process. We can stabilize a house in place with this system or even lift it back to its original position. Normally you would have to over lift to insert shims under your house. But with our adjustable shim block, we never have to over lift the structure, which mitigates the risk of interior damage to the home. This system and installation method has been patented by the United States Patent Office.
Every foundation piering and underpinning project is VERY different. No two are going to be the same or even necessarily follow the same timeline and steps. Please give us a call to have one of our structural experts out to assess your home!
Foundation Underpinning Projects Vary but Can Takes Us as Little as Three Days to Complete
Structural foundation underpinning and piering From Reliable Basement Services Comes With a Lifetime Transferable Warranty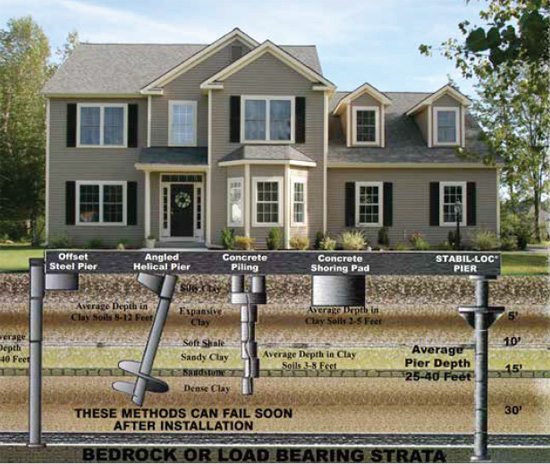 Concentric Loading vs. Eccentric Loading
The major benefit of the Stabil-Loc foundation piering system is that it is based on the principles of concentric loading rather than eccentric. Why does this matter though and what do these words mean? Let's look at the definition when it pertains to structural loads:
Loads applied to the center of gravity of a structural member cross-section are considered concentric. A beam that passes over and rests on the top of a column is an example of concentric loading.  Any load which is not concentric is eccentric, meaning the load is not placed over the center of gravity of a structural member.
Eccentric or "offest" piers are installed from outside the footing and fastened to the footing with an arm/bracket since bulk of the house was in the way of driving of the pier. Using these types of brackets along the side of your structure is often inadequate to repair the foundation because the load of the home is not over the pier only over the bracket that is attached to the pier. By lifting the structure with piers and brackets at an angle or offset to the side of your home, the pier eventually bends or breaks. Sometimes this method also improperly raises the foundation because you don't have as much control. In the diagram, you can see just how unstable other underpinning basement systems are. Ultimately, they can fail and sometimes damage the structure.
Concentric piers are installed directly under the footing and the top bracket is fastened directly between both the pier and the footing. We do the extra work to get under the footing so the weight of the house can be used to both drive the pier and is directly supported. There is no offset or attachment point that can fail. You have the control required to lift the house as needed.
Imagine holding something heavy, like a bag of sand. Could you hold it longer out in front of you perpendicular to your body at arms length or if you put it on your shoulder directly in line with your body?
Foundation Underpinning in Your Home
Sinking foundations are a common structural problem in both new and old homes. Your foundation could be affected by sinking no matter where you live in the United States. There are many possible causes of a sinking foundation including the following:
Evaporation: Both hot and dry conditions can causes the soil to shrink and settle
Transpiration: Tree roots dehydrate soil, which causes the soil to shrink and your home footing/slab to settle
Drainage: Improper drainage causes more hydrostatic pressure on basement walls and/or erosion beneath the footing
Poor Site Preparation: Improperly compacted fill soil causes settling problems later
Poor Soil Conditions: Expansive clay soil and organic debris cause the soil to contract and expand which can damage or move the footing
What Are You Waiting For?
Schedule Your Free Inspection Today!