Skip to Content
Reliable Basement is now part of ULB-DRY Waterproofing . You are being redirected to similar content on ULB-DRY Waterproofing's website.
If you are not redirected within 5 seconds, please click here.
Window Wells and Drains at Reliable Basement Services
It's very common for water to accumulate in window wells. If enough water gathers inside the well, large amounts of water might come through your window or window frame and pour into your basement. It may even break your window if the well overfills. If your home is like most others, it was probably built with window well drains. Leaves, branches, mulch, and other debris can still clog the drain if you don't keep it clean. Reliable Basement Services offers many different window-well solutions. Simply caulking around the windows and window frames, installing glass block windows, or installing a window well cover will not fix your drainage issues.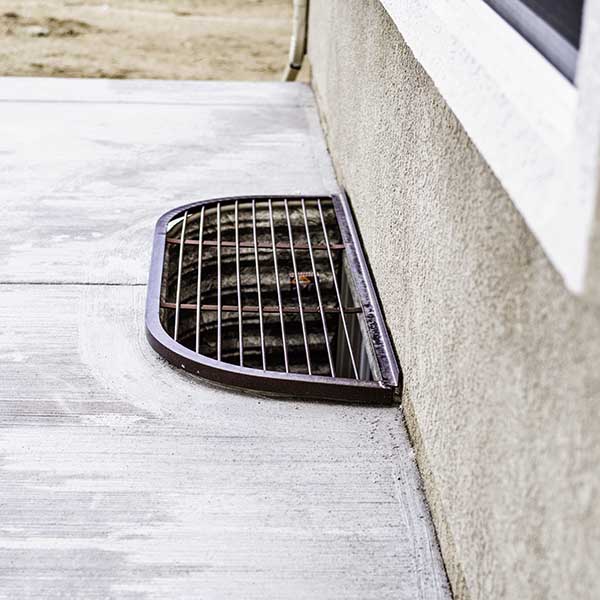 Sometimes the Most Effective Solutions Are Fixing the Most Obvious Cause
For example, sometimes adding gutter extensions or fixing the flow of the water will solve your drainage problem. Whether it's a simple or more complex problem, Reliable Basement Services has many effective window-well solutions available. We have solved leaky basement and window well problems in homes all over Chicago. If you want window wells to be installed below grade on the exterior of your home, they must be drained first. If you don't have the proper window well drains, you'll have a flooding problem on your hands. Windows are designed to shed water just like your roof does. So, when your window wells fill up, the water will pour right through the seals of your windows and into your basement. Reliable Basements can retrofit drainage from either the exterior or interior of your home.
Exterior Window Well Drains
For an exterior window well drain installation, Reliable Basement Services takes the following steps:
Reliable Basements starts by excavating the area from the window well to the drain tile, which is located below the level of the basement floor slab on the exterior.
Next, we perform a drain tile test to make sure that the window wells properly drain.
We install a 4-inch rigid PVC drain pipe with a drain grate, which extends from the top of the drain tile or gravel drainage layer to approximately 4 inches below the height of your window sill.
We use concrete screws to securely fasten your window well to the wall.
We backfill the excavated area with native soil.
Lastly, we pour gravel inside the window well to start the drainage and ensure that it filters into the newly installed drain pipe.
Interior Window Well Drains
For an interior window well drain installation, Reliable Basement Services takes the following steps:
We start by excavating dirt in the window well to approximately 6 inches below the level of the window sill.
We drill a two-inch hole through the foundation wall to the exterior into the window well. We drill the core hole approximately 4 inches down from the level of the window sill for drainage.
Next, we install a 2-inch PVC drain pipe through the core hole. We drain the core hole down to a sump basin.
We seal the penetration with hydraulic cement.
Lastly, we will pour gravel inside the window well to filter the drainage and facilitate it to the newly installed pipe.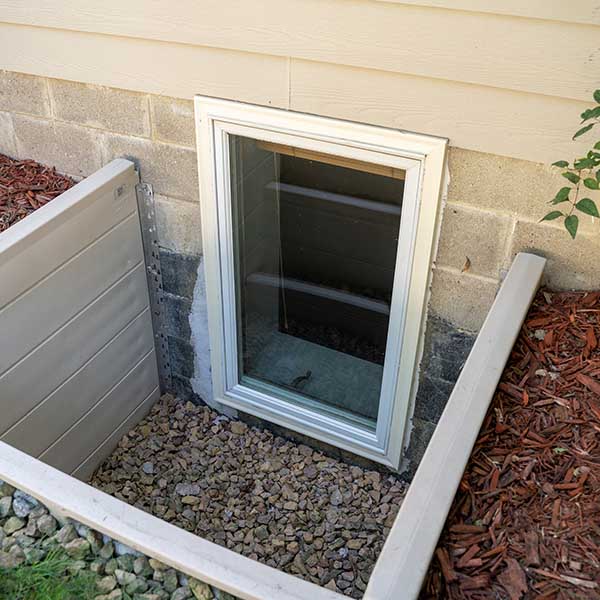 When you're thinking about a window well drain installation, you should also consider getting an egress window from Reliable Basement Services installed. Egress windows have many benefits including:
Provides a safe escape from your home in the event of an emergency
Provides an easy access into your home for firefighters in case of emergency
Allows extra sunlight to enter your home
Can nearly double the size of a living area when building codes are being met
Increases the value of your home
What Are You Waiting For?
Schedule Your Free Inspection Today!