Skip to Content
Reliable Basement is now part of ULB-DRY Waterproofing . You are being redirected to similar content on ULB-DRY Waterproofing's website.
If you are not redirected within 5 seconds, please click here.
Storm Drain Installation by Reliable Basement Services
Reliable Basement Services has been Chicago, IL's most reliable storm drain installation company. We have been helping homeowners for over 12 years to protect their property from damaging storm rains with storm drain installation services for commercial and residential use. Our experienced team of professionals can help design and install your storm drain system to provide maximum protection from damaging storm rains. We provide fast and accurate free estimates to ensure you know exactly what you're getting. As a locally-operated business, our team has always put a premium on customer satisfaction. Contact us today to get started with your storm drain installation.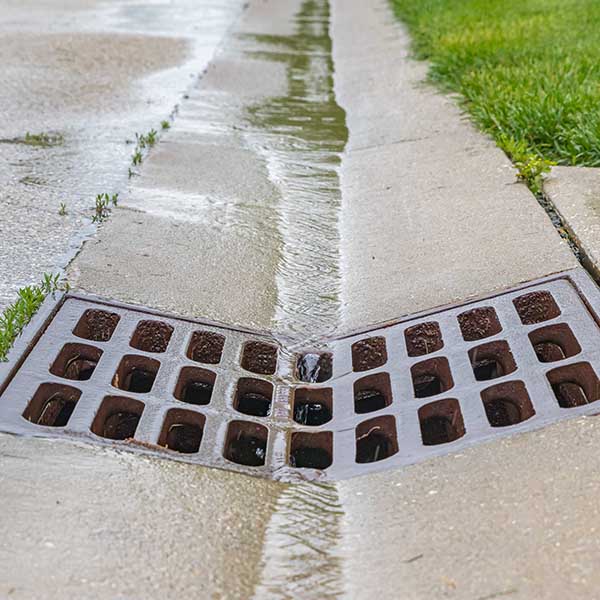 What Is a Storm Drain?
During a storm, extensive hardscapes such as paved driveways, basketball courts, and parking lots prevent a large amount of water from absorbing into the soil. Hardscape runoff can create large pools of polluted water around your home or office, as well as flooding in extreme situations. A storm drain is a piping system specifically designed to direct water away from your property and to a place where it can be safely dispersed, such as wetlands, rivers, or lakes. Our team has the right equipment and experience to design and install a storm drain system that will ensure your home and property are protected.
What Is the Storm Drain Installation Process?
Storm drain installation may seem easy enough. Dig up some dirt, lay down some pipes, and you've got yourself a storm drain. However, it's not quite that simple. If you choose an inexperienced team or try to install a storm drain yourself, you may violate local ordinances and risk damage to your home's utilities. Our technicians have years of experience designing residential storm drains that meet local and federal guidelines. We will take care in ensuring no disruptions to your utilities and construct a storm drain that properly directs water away from your property. Contact our team today and learn more about how we can help you.
Storm Drain Repair Services
If you notice pooled water along your storm drain's route, it may be an indication that it needs repair. At Reliable Basement Services, we offer comprehensive storm drain repair services. Our team of professionals can quickly diagnose the issue with your storm drain and take the necessary steps to repair it. No matter the project's size or scope, our team has the right tools and equipment to help. Over our 12 years, we have provided a wide variety of repair services, so we are uniquely qualified to respond to your needs quickly and appropriately.
What Are the Signs I Need a Storm Drain?
Reliable Basement Services is the area's premier storm drain installation team. There are several signs that you require a storm drain installed to protect your property. When you contact us, our team will listen to your concerns and make recommendations based on your needs. Many of the common signs that you may need a storm drain include:
Standing Water
If you noticed large pools of standing water in your yard, it might be an indication that you need a storm drain installed. When the water has nowhere to disperse, it will simply pool, create dangerous flood situations, and damage your home's foundation
Household Mold
The presence of mold may indicate a lot of moisture or water in your basement, even if you can't see it. Not only that, mold can cause several allergy-like symptoms and other health issues.
Water in Your Basement
If you have water in your basement, it may be because it's not being directed away from your home's foundation.
Storm Drain Experts
Reliable Basement Services has been providing storm drain installation services for homeowners throughout Chicago, IL, since 2012. Our priority is always to ensure that our customers are entirely satisfied with our services. Our team is highly trained and experienced to ensure that every job is completed on time and within your budget. We utilize the latest equipment and materials so you can feel confident in our ability to deliver a high-quality product. As a leader in storm drain installation, our customers know they can trust us no matter the project's size or scope. Contact our team today to get started with your free consultation.
What Are You Waiting For?
Schedule Your Free Inspection Today!