Skip to Content
Exterior Waterproofing Membrane
Reliable Basement is now part of ULB-DRY Waterproofing . You are being redirected to similar content on ULB-DRY Waterproofing's website.
If you are not redirected within 5 seconds, please click here.
Exterior Waterproofing Membrane at Reliable Basement Services
If you want the most effective waterproofing solution for your foundation, exterior waterproofing is the best choice. However, exterior waterproofing is also one of the most expensive solutions. The best time for exterior and foundation waterproofing is during the initial construction of a home or a commercial building.  This is not always possible since many homes and buildings were constructed before these products and processes were readily available. When people talk about "sealing" or "basement sealing", especially on a new home waterproofing membrane is generally what they mean.
Exterior waterproofing membrane can be used as a standalone solution or as part of a larger basement waterproofing system. Waterproofing membrane is designed to prevent water from touching the foundation of a home and allow that water to be shed away from the home. It works best when used with some type of drainage system as well because that water will not penetrate the membrane, but does not give the water a place to go. We use exterior waterproofing membrane as part of several other common repairs including but not limited to, chimney wraps, brickledge waterproofing, and exterior crack repair.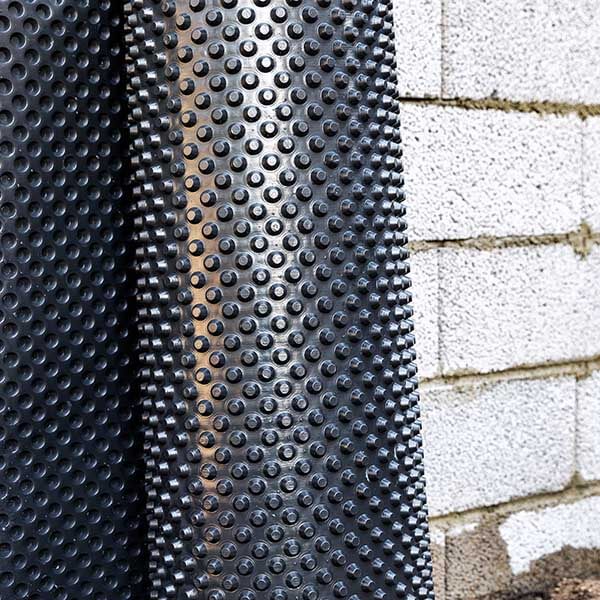 A Thorough & Effective Solution
Exterior waterproofing membrane is a fairly simple product. When installed by the professionals at Reliable Basement Services it involves 2 or 3 layers depending on the application. These layers are designed to keep water from touching the foundation wall. If water can't contact the foundation wall, water can't pass through it to the lower level of your home where it causes all sorts of problems. Every time we use exterior waterproofing it involves a liquid membrane, which is applied first, and a sheet membrane. The liquid membrane is the final line of defense and fills in all the tiny cracks, chips and holes that all foundations develop. It is also there to give the sheet membrane something to stick to rather than bare foundation. The sheet membrane is the workhorse on top of the liquid membrane. It is designed to be tough, impermeable, and flexible. It can accommodate slight movements and shifts in the foundation or soil outside to maintain that outer layer of protection.
When used in conjunction with a new or existing drainage system (i.e. Exterior Drain Tile or a French Drain) we also add a third layer of membrane called dimple sheeting. The dimples on this harden plastic sheet allow water a quicker path to the drainage system once the soil around the membrane is backfilled.
All of exterior membrane applications involve mechanically fastening the membrane to the structure at the top to maintain positioning and protect it during when soil is returned.
Basement Waterproofing Membrane Projects Typically Take Us Two Days to Complete
T
Our Exterior & Basement Waterproofing Membrane Services
Exterior Foundation Membrane Wraps
Exterior Drain Tile (Footing Drains)
Exterior Surface Drainage (French Drains W/ Membrane)
Brickledge Waterproofing
Exterior Crack Repairs
Chimney Wraps
Basement Sealing
Porous Foundation Repairs
What Are You Waiting For?
Schedule Your Free Inspection Today!