Skip to Content
Egress Window Installation
Reliable Basement is now part of ULB-DRY Waterproofing . You are being redirected to similar content on ULB-DRY Waterproofing's website.
If you are not redirected within 5 seconds, please click here.
Professional Egress Window Installation for Chicago & the Chicagoland Area
Egress windows, also known as escape windows, are a secondary means to leave your home in the event of an emergency. They are a vital safety feature for your basement. In addition to providing a safe emergency exit they also offer a variety of aesthetic benefits. Egress window install projects typically take 2 days to complete. If you live in Chicago or the Chicagoland area, and your neighbor asks " Where can I find an Egress Window Contractor near me?" Tell them it's easy, just call Reliable Basement Services, they service the entire Chicago area.
While every basement and install project is different Reliable Basement Services generally follows a similar procedure:
Excavate the area where the new egress window will be installed (size of excavation will depend on new window size and existing well size)
Remove the existing well (if there is one)
Remove drywall and stud framing on the interior
Prep interior area with surface protection
Establish proper drainage to interior or exterior
Cut Foundation
Remove, break up, and dispose of cut section
Install additional top support as needed (brick or stone exteriors)
Install treated wood frame in opening and secure window
Install window well and escape ladder
Backfill interior of window well with clean washed gravel and exterior of window well with excavated soils
Remove and dispose of excess soil and debris
Egress windows can be installed in locations where there is an existing non-egress window or an entirely new location. Contact us today to find out more about our Egress Window Installation services.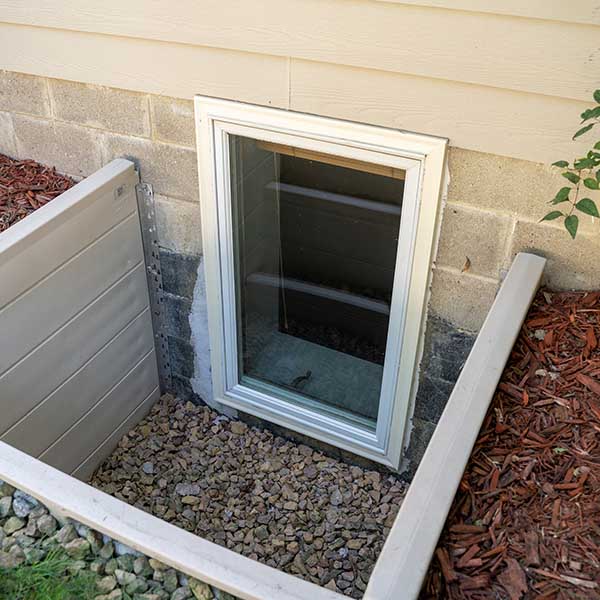 The Benefits of Basement Egress Windows
There are so many benefits to basement egress windows! These include:
Provides a safe escape both in and out of your house in case of an emergency
Increases the amount of sunlight that enters your house
Increases your home's value
Add additional safe living space to your home
Increases airflow in stagnant basements
Provides a Safe Escape
Egress means "to emerge" or "a path out". True to their name, egress windows are openings specifically designed to create a safe escape from an emergency. These egress window openings also make it easy for police and firefighters to get in to help you. Your local and national building codes will define the specific minimum requirements for these windows to ensure that you can get out. Hopefully you never have to deal with an emergency situation in the lower level of your home, but if you do having that Egress Window installed by Reliable Basement could save lives. Municipalities all have different rules for when they are required, but they are always required in basement sleeping quarters.
Doubles the Safe, Usable Size of Your Home
Remodeling your basement might be your most affordable option to increase your living space. In the majority of homes a basement can account for 1/3 to 1/2 of the total square footage. Many unfinished basements just become a giant storage room instead of usable space. If you intend to finish your basement and spend quality time down there you should really consider installing an Egress Window.  Reliable Basement Services can install basement egress windows and window wells  that will blend in with the exterior of your home and complement your interior décor. Some windows come with additional features such as terraced steps molded into the wells, which make for an easier escape than the alternative of a traditional ladder.
Increases Home Value
If you want to finish your basement or are even considering a basement renovation, you should research if there is a town requirement for basement egress windows. In most towns, this is a requirement. This requirement is tied into rules related to Real Estate transactions. Square footages of basements may not count when calculating a homes value if all the requirements are not met Most building codes also mandate the installation of basement egress windows to provide an adequate escape route in case of an emergency. Not only does an egress window increase your home's safety, but it also increases your home's value, your home's airflow, and the natural lighting in your basement. An egress window can make even the darkest, stuffiest, most unpleasant basement spaces into a welcoming environment.
Increases Sunlight
By installing basement windows, your basement will dramatically increase in brightness. You won't have a dark, dingy basement that no one wants to be in anymore. Our standard and most popular window is the 48″ X 48″ sliding window. It completely changes how a basement room feels.  Whenever you want to remodel your basement to make a new bedroom, office, or other living space, you should always have egress basement windows installed.
Egress Window Size Requirements
The International Residential Code (IRC) sets the requirements for egress windows. They may be slightly different in local building codes, so make sure you check that you are compliant with the local requirements in your area.
An egress window must meet four IRC criteria:
The width of the opening must be at least 20 inches
The height of the opening must be at least 24 inches
The net clear opening must be at least 5.7 square feet
The sill height above the floor must be at least 44 inches
An egress window well must meet two IRC criteria:
The well must have a foot print of at least 9 square feet
The well must have a projection of 36″ off the house
The net clear opening refers to the actual free and clear space that exists when the window is open.
This is not the rough opening size or the glass panel size, but the actual opening that a person can crawl through. Your window must be able to open easily from the inside without keys or tools. You may install bars, grilles, and grates over the window, but you still must be able to open the window to the minimum clear opening without tools or keys. You might make the mistake of assuming a window that measures 20 inches by 24 inches would be a big enough egress. However, those dimensions will not yield a net clear opening of 5.7 square feet. Instead, it will only be about 3.3 square feet. You will need either a 20-inch by 42-inch window or a 24-inch by 34-inch window to make it the appropriate size. Basement egress windows are not just a top safety feature but also a great investment. They require careful planning, selection, and installation for any living space or remodeling project. You must make sure that your window meets both Section 310 of UBC and IRC 2003 Building Code.
Types of Egress Windows
Slider Egress Window
These windows slide open and closed and are mounted upon tracks and runners. Some styles open vertically while others open horizontally. Size requirements can be a bit more of a challenge with slider style basement egress windows. We install a 48-inch by 48-inch window to make sure you have the appropriate size. The net clear opening as discussed above is 4 feet by 2 feet minus the framing so this style of window is well above the 5.7 Sf that is required by most building codes.
Casement Egress Window
Casement windows are a great choice for basement egress windows. They often have large panes with hinges along the side. These hinges allow the window to be completely opened by swinging inward or outward. This makes them especially easy to crawl through in an emergency situation. They are perfect for bedrooms and basements because they occupy such little wall space but offer the greatest, easiest escape route.
What Are You Waiting For?
Schedule Your Free Inspection Today!