Skip to Content
Radon Mitigation Services
Reliable Basement is now part of ULB-DRY Waterproofing . You are being redirected to similar content on ULB-DRY Waterproofing's website.
If you are not redirected within 5 seconds, please click here.
Radon Services in Chicago
At Reliable Basement Services, we do more than just waterproofing. If you're a Chicago property owner with concerns about radon levels, we offer comprehensive radon mitigation for your peace of mind. Though our team does not personally handle radon testing, we can help you find the perfect mitigation system for your home or business. Especially with this type of work, we're not in the business of delivering one-size-fits-all solutions. As a family-owned and -operated business, we treat our Chicagoland neighbors with the utmost respect and professionalism. Radon mitigation requires a seasoned team that understands the importance of prompt assistance and proper installation techniques. Learn more about radon mitigation and how our team can safeguard your property with the right system.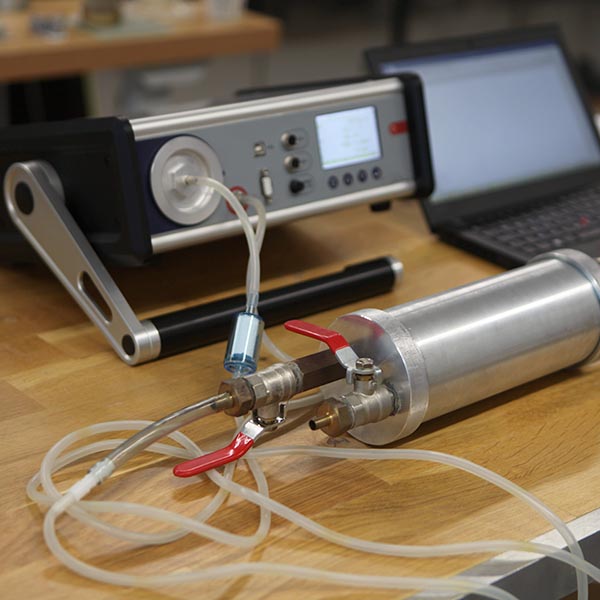 What Is Radon
Radon is an odorless, colorless gas derived from the naturally-occurring decay of uranium found in all soils that is strongly linked to lung cancer. It will typically move up through the ground and into the air through cracks and other gaps in the foundation of your home or business. The exact amount of radon present at your property depends on the lands' unique soil chemistry, which varies from place to place. Radon levels in soil range widely from nearly zero to several hundreds of pCi/L (picocuries per liter). Your residential or commercial space can then trap this radon indoors, causing a buildup that will need to be adequately mitigated. The amount of radon that escapes from the soil and enters your home or business is dependent on the weather, soil porosity, soil moisture, and ventilation.
Why Is Radon Mitigation Important?
Any building, no matter how old or new, can fall victim to high radon concentrations. Professional radon mitigation is the only way to reduce radon levels within your home or business. If proper mitigation is not carried out, you run the risk of exposing yourself, your family, and your employees to high radon levels. To keep everyone that visits your property safe, it's best to rely on our professional team to mitigate this harmful soil gas through our superior processes and systems that rid your property of excess radon.
Professional Mitigation Support When You Need It Most
After doing a walkthrough of your property, we will be able to advise you on what type of mitigation system should be installed. We may also take the time to run diagnostic testing to ensure the proper fan size and correct installation of your system. No matter the scope of your radon problem, Reliable Basement Services will deliver the mitigation and installation services you need to rid radon from your building in a prompt fashion. We'll even take the time to thoroughly explain how your radon mitigation system works and provide operating instructions to leave you informed and confident in your system. We do suggest investing in a post-mitigation radon test 48 hours after we have installed your new system so that you can make sure your building is exhibiting acceptable radon levels.
Professional Radon Mitigation & Installation
Reliable Basement Services is here to deliver solutions and systems that reduce radon concentrations in your buildings. If you've come to realize there's a radon problem in your home or business, our professionals will visit your property and decipher the best radon mitigation techniques for your home and its foundation. Comprehensive foundation repairs and a mitigation system installed by our team will work to reduce year-round levels to keep you and your building's occupants safe. We'll go in and seal up any cracks or holes to limit the flow of radon and then begin the mitigation system installation process.
Contact Your Chicago-Area Radon Mitigation Experts Today!
If you've recently found out there's a radon problem in your building, don't hesitate to call our experts. When you're dealing with excess radon, you want to make sure you're relying on professionals for mitigation and installation. This isn't a project for amateurs! Foundation repair and radon mitigation services from the seasoned contractors at Reliable Basement Services are the best way to reduce radon levels at your commercial or residential property. Contact us now to get started with a free quote. We look forward to providing you with the services you need to safeguard your property and health against radon.
What Are You Waiting For?
Schedule Your Free Inspection Today!