Skip to Content
Reliable Basement is now part of ULB-DRY Waterproofing . You are being redirected to similar content on ULB-DRY Waterproofing's website.
If you are not redirected within 5 seconds, please click here.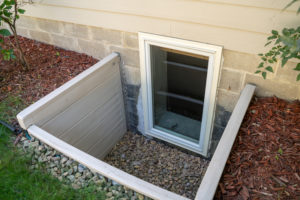 Are you finishing your basement? How exciting! A finished basement can add valuable space to your home, whether you're going to use it as a family room, an extra bedroom, a playroom for the kids, or an in-law suite. If you've been making plans, you probably know that you need egress windows. What are egress windows? How do they differ from regular windows, and why do you need them?
First, let's address what they are. Egress windows are windows that can be open from the outside without tools, keys, or special effort, and must allow an adult to pass through when necessary. They're meant to allow you and your family to safely escape the basement, but they're also designed to allow emergency personnel to get into the basement if they need to rescue someone. Any room in your house which is used for a sleeping or living area must have a window through which you can get out. If your basement is a walkout basement, you may not need an egress window. On the other hand, if there's a bedroom in the basement, it's still required.
Codes for egress windows vary depending on where you live. Still, there are some rules that are standard, according to the International Residential Code (IRC). Egress windows must be at least 20 inches wide and 24 inches high, with a minimum clearing of 5.7 square feet when opened and a maximum sill height of 44 inches from the floor. There must be clear space surrounding a basement egress window, and it has to have a minimum projection of 36 inches, and steps leading to the window.
There are requirements for the window wells, too. Any egress window that extends below ground level must have a window well, and that egress well must not interfere with the window fully opening. The distance from the window to the back of the well must be at least 36 inches, and the minimum area of the egress well must be 9 square feet, measuring width by projection. For window wells deeper than 44 inches, ladders or steps must be attached and may encroach into the well as much as 6 inches. There can be no more than 18 inches between the rungs of the ladder or the steps, and the rungs or steps must be 12 inches wide and project between 3 and 6 inches away from the back of the wall.
There's no need to install egress windows yourself when Reliable Basement Services can help. Family-owned and operated, we've served the greater Chicagoland area for more than ten years, offering a full spectrum of basement services, charging reasonable rates for work that includes crack repairs, sump pump systems, basement waterproofing, basement windows, and floor repair. Our high standards have made us an award-winning Chicago basement waterproofing contractor and earned us satisfied customers all over Chicago. For more information, call (630) 318-4888 or visit our website for a free quote.
What Are You Waiting For?
Schedule Your Free Inspection Today!