Skip to Content
Professional Basement Waterproofing & Foundation Crack Repair in Dyer, IN
Teetering between Illinois and Indiana, Dyer is a beautifully comfortable city, with plenty of outdoor green space and the perfect smaller town destination to raise a family. As you grow and cultivate your family, you'll want to care for your home as well. The foundation is, for many, out of site and out of mind. It's not something you think about. However, it should be. Foundation problems slowly develop into far more serious problems that can affect the rest of your home. With the help of Reliable Basement Service, you can avoid this issue. If you live in Dyer, and your neighbor asks " Where can I find a basement waterproofing or foundation crack repair contractor near me?" Tell them it's easy, just call Reliable Basement Services, they service Northwest Indiana the entire Chicago area.
Our Services in Dyer, IN :
✓ Basement Waterproofing
✓ Foundation Crack Repair
✓ Crawl Space Repair
✓ Basement Egress Windows
✓ Yard Drainage Solutions
✓ Window Well Solutions
✓ Foundation Structural Solutions
✓ Radon Mitigation Services
✓ Sump Pump Installations
✓ Battery Backup Sump Pump Installations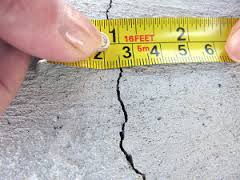 If you do currently have foundation problems, you need to contact Reliable Basement Service right away. While most foundation issues occur over time, the longer you wait to repair your foundation the bigger the problem becomes (and the more expensive it becomes). Reliable Basement Service offers crack repairs for the cement foundation. This fills in the cracks and prevents moisture from leaking in. Depending on the situation though, you might need more significant foundation repair services.
In order to help prevent basement flooding and foundation issues, you want to control how water comes in contact with your home. This can be done through a few different yard drainage methods. One such option is to adjust some of the landscaping of your property. This can help with the flow of water to your home. If you are at the base of a hill or in a high risk area for heavy moisture, sump pumps will pull water out of the soil and pump it elsewhere.
Have you noticed wet walls or even water pooling in the basement? If it isn't a drainage issue with the pipes, it's likely from water seeping in through the walls. Each situation is a bit different, so the waterproofing upgrades you'll receive are a bit different from the next person. Exterior waterproofing membranes is one option when your home is at greater risk. Wall bracing and foundation underpinning are also options, if your home has sustained foundation problems in the past. Other basement waterproofing techniques your home might require includes interior/exterior drain tiles, window wells and drains, egress window installation or a battery back up.
Have you notice cracks in your crawl space? Perhaps there are wet spots or you've seen mold develop? Whatever the problem is, Reliable Basement Service will address it.
All Your Foundation and Preventative Waterproofing Needs
Reliable Basement Service is your go-to professional service provider for all things foundation repair, prevention and basement waterproofing. Every foundation problem and basement issue is just a little bit different, so you need someone with the experience and knowledge on how to handle the issue. Reliable Basement Service is that company.
What Are You Waiting For?
Schedule Your Free Inspection Today!