Skip to Content
Professional Basement Waterproofing & Foundation Crack Repair in Bourbonnais, IL
Name after famed American Fur Company trapper and hunter Francois Bourbonnais, the current village of Bourbonnais is a sleepy, comfortable town that provides you with enough distance from Chicago to help maintain the small town charm, yet still close enough for entertainment and air travel. Many of the homes here contain basements, and if your home is one of these then it is important for you to pay a close eye to the foundation of the house. This is because homes with basements are more susceptible to foundation splits and damage. So, make sure to take extra precautions when it comes to your home's structural integrity. If you live in Bourbonnais, and your neighbor asks " Where can I find a basement waterproofing or foundation crack repair contractor near me?" Tell them it's easy, just call Reliable Basement Services, they service the entire Chicago area.
Our Services in Bourbonnais, IL :
✓ Basement Waterproofing
✓ Foundation Crack Repair
✓ Crawl Space Repair
✓ Basement Egress Windows

✓ Yard Drainage Solutions
✓ Window Well Solutions
✓ Foundation Structural Solutions
✓ Radon Mitigation Services
✓ Sump Pump Installations
✓ Battery Backup Sump Pump Installations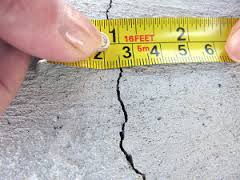 There are a dozen or more ways you can protect your basement and the foundation in general. Much of this has to do with your home and what kind of risk it is in with shifting soil and water flow. If there are already foundation problems you may find services like foundation underpinning and wall bracing can help, while exterior waterproofing membrane installation provides an additional layer of protection from outside moisture. By bringing in a trained professional to inspect your home and the grounds around it, there are all sorts of different ways to divert water away from the property and to offer additional protection from year-round precipitation.
Cracks in the foundation do not always mean your foundation is deteriorating, but it does mean you need to have these cracks repaired. Failure to do so and the cracks will begin to spread and shift. This goes for both interior and exterior cracks.
Have you noticed water spots on your basement's wall? Perhaps water pools around the house after it rains. Whatever the cause, moisture around your property can lead to a number of different problems, including foundation damage. For some properties, it is best to have sump pumps installed. These pumps push water away from the house, protecting the foundation.
If your home is like many in Bourbonnais, it likely has a crawl space. This might be under the stairs leading to the basement or in between the basement and main floor. Wherever the crawl space is, these are often areas that show signs of foundation damage earliest (because there is no paint or sometimes insolation).
All Your Foundation and Preventative Waterproofing Needs
Maintaining structural integrity on your property is more than just luck. You need to remain proactive about protecting the home and doing what you can to safeguard it from shifting soil around it and constant contact with moisture. By bringing in a professional to look into the property and offer recommendations on the best course of action, you'll avoid devastating and expensive foundation repairs later down the line.
What Are You Waiting For?
Schedule Your Free Inspection Today!